A Dream: Playing by Ear
November 18, 2005 - Back to Journal

A DREAM
I am upstairs with my niece Jessica who is sitting nearby. I am playing the piano, only instead of reading regular sheet music, I am playing the seams of a gold dress flung on a chair I see in my peripheral vision on the left. When I mention this to Jessica, she is bewildered.
"What do you mean, Aunt Marcia, how can you play the seams of a dress?"

The answer was so obvious, there were no words to explain it. I decide she must be joking. "Oh sure," I joke back, "like playing a dart or an in-seam would be hard."

This is what the music looked like: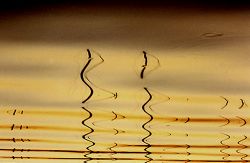 ---